*
Cardboard Cutout is the debut single by The Paraffins, a new act from the little known Scottish outpost of Knockentiber.

Based around Billy (occasionally of electro duo Electroluvs) with a shifting cast of guests, The Paraffins utilise rusty stringed guitars, prehistoric beatboxes, warped melodicas and more to create scratchy, catchy and often danceable primitive pop.

This microscopic 3 inch single also features a selection of videos including a retina-frying animated promo for the title track by Gay Against You's Yoko Oh No, a salute to the Mael brothers plus a 'live' remix by Mr Luggs (ex-Nyah Fearties) filmed on a nearby planet...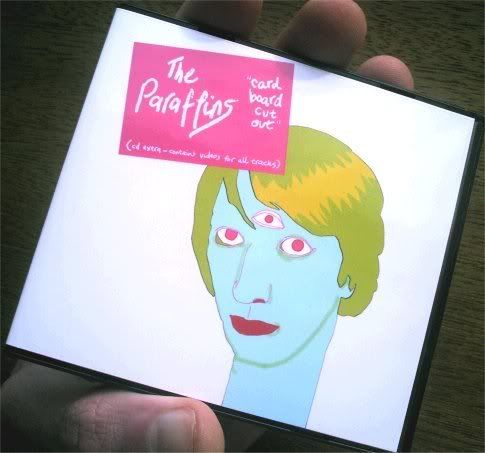 Get it here:
http://www.myspace.com/theparaffins



"Casio keyboards, glitch ridden beats and a near-whispered delivery make this near-transcendental; when it builds up you suddenly find yourself in a totally new headspace, and it's refreshing…" Subba Cultcha.com

""Toughest Girl In Town" is effectively a tribute to Phil Spector and the beat generation played out on a Sega Mega Drive - and that's no easy achievement." Music Dash.co.uk

"The Paraffins surprised me. Most bands with their resolutely DIY ethic try hard and end up sounding eager, but often end up falling short because the tunes are missing. The Paraffins have them and know how to use them too." A New Band A Day.com


See some Paraffins videos here:
http://www.youtube.com/user/TheParaffins


**

Plus, a more melancholy side of The Paraffins can be heard on Filthy Little Angels' latest compilation My Filthy Valentine downloadable for nothing from here:
http://filthylittleangels.blogspot.com/2009/02/little-041-various-artists-my-filthy.html


All further Paraffins info can be found at http://www.myspace.com/theparaffins